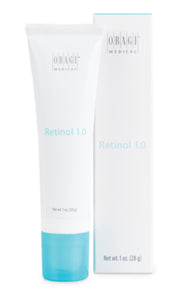 OBAGI RETINOL 1.0%
A high-concentrated retinol cream, perfect for ridding your face of fine lines and wrinkles. Expertly synthesised to fight signs of aging, this formula is great for giving you healthier, more radiant complexion. Helping to boost your skin cell turnover, this anti-wrinkle cream is fitted with both vitamin C and E to neutralise any and all free radicals while the jojoba oil and shea butter hydrate your skin and promote firmness and elasticity.
BENEFITS
Ingredients include naturally occurring Vitamin C

Refining the appearance of skin texture and tone.

Increases collagen production in the papillary dermis.

Helps treat acne with 1% Retinol formula 

Reduces photodamage.

Increases epidermal skin turnover time to reduce premature ageing.