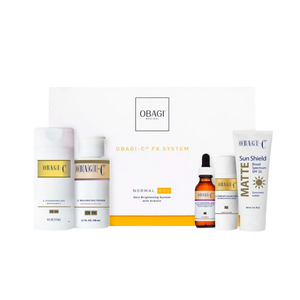 Receive a FREE sun hat with every purchase of this kit

What are the Obagi-C® Systems?
The patented Obagi-C® Systems are complete skincare routine that proactively correct signs of damage to help restore and maintain healthy, radiant skin.


What will the Obagi-C® Systems do for my skin?
non-prescription-strength 4% arbutin plus 10% L-ascorbic acid has proven aesthetic advantages:
•Improves the appearance of hyperpigmentation (discoloration)
•Accelerates skin turnover to restore balance, radiance, and clarity to lackluster skin
•Promotes skin rejuvenation from the inside out with Vitamin C, the only topical antioxidant proven to stimulate collagen synthesis
•Minimises future skin cell damage by neutralising free radicals and protecting the skin
•Maximises antioxidant absorption due to a low pH level (low pH also means greater antioxidant stability and a longer shelf life than other leading Vitamin C products)

AM/PM: Obagi-C® Cleanser Gel
─ Effectively removes makeup, oil and dirt to clarify and prepare your skin for following key ingredients.
AM/PM Normal to Oily skin: Obagi-C® Balancing Toner
─ An alcohol-free, non-drying toner balances your skin's pH, allowing the key ingredients in the products that follow to penetrate the skin and work more effectively.
AM: Obagi-C® Fx Clarifying Serum
─  4% Arbutin is a non-prescription, key ingredient to help reduce hyperpigmentation, such as dark spots / sun spots. The body converts Arbutin and suppresses the enzyme that produces pigmentation helping you on your way to lighter, brighter, more even skin tone. On top of that, Obagi-C Fx Clarifying Serum contains 10% L-ascorbic Acid (Vitamin C) to improve the appearance of ageing skin and help defend against free radicals.
AM Normal to Dry skin: Obagi-C® Exfoliating Day Lotion
– This lightweight, daily moisturiser gently exfoliates the skin using Glycolic Acid without the need for mechanical exfoliation such as beads or crystals. Additional hydrating ingredients relieve skin dryness and help to reveal a brighter, healthier-looking complexion.
PM: Obagi-C® Fx Therapy Night Cream
─ Gradually diminish the appearance of dark spots overnight with Arbutin and Vitamins C and E getting to work while you sleep.
AM: Sun Shield Matte Broad Spectrum SPF50
─ This non-greasy, matte finish SPF is non-comedogenic, so wont block pores, allergy tested, PABA-free, and dermatologist tested; giving you broad spectrum UVA and UVB protection every day.