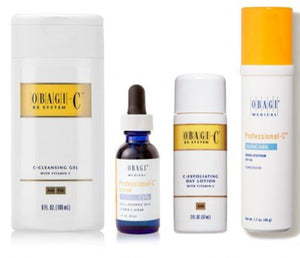 All with Added vitamin C, this simple 4 piece kit is guaranteed to leave your skin glowing effortlessly making it a great kit for those wanting a more radiant complexion.

INCLUDES:
OBAGI CRX C-CLEANSING GEL
Cleanse your face of makeup and impurities with Obagi's lightweight C-cleansing gel. Able to reduce signs of sun damage whilst also diminishing signs of photo-aging and hyperpigmentation, C-Cleansing gel is able to give your skin a deep cleanse, removing dirt and makeup from deep in your pores whilst soothing your skin with the refreshing effects of aloe vera. Meanwhile Oat Amino Acids are able to soften and smooth your complexion, readying your skin for the rest of your skincare routine.
OBAGI CRX SYSTEM C-EXFOLIATING DAY LOTION
Reduce visible signs of aging and diminish hyperpigmentation with Obagi's C-exfoliating day lotion. Synthesised with Glycolic acid, this exfoliator is able to slough off dead skin and wrinkles while using its specially added Vitamin C to help stimulate collagen synthesis so that you can start to see a clear reduction in fine lines while regaining firmness. This all helps to make C-exfoliating day lotion a lightweight lotion that's able to keep your skin moisturised while also calming any inflammation.
OBAGI PROFESSIONAL-C SERUM 15%
Perfect for any skintype, Obagi's professional C-serum 15% is a great addition to any skincare routine. 
Formulated to help prevent premature signs of aging like fine lines or wrinkles, C-serum 15% is able to stimulate collagen production whilst also brightening uneven skin tones and even preventing any future damage. With the help of L-ascorbic acid, the non-greasy formula is able to leave your skin firm and plump, whilst keeping moisture locked in with hyaluronic acid. C-serum is able to penetrate deep into your skin, neutralising the free radicals created from sun exposure and ageing.
OBAGI PROFESSIONAL-C SUNCARE SPF 30
Give your skin the needed protection with the Obagi Professional-C Suncare Broad Spectrum SPF 30. With its broad-spectrum of protection and 10% L-Ascorbic acid, this daily sunscreen helps to defend against both UV rays and free radicals, before they can cause fine lines, sun damage and dark spots. As with others in the professional-C line, Suncare Broad Spectrum has the added bonus of Vitamin C to help eradicate free radicals. All this in a lightweight formula that won't leave your skin oily and greasy.