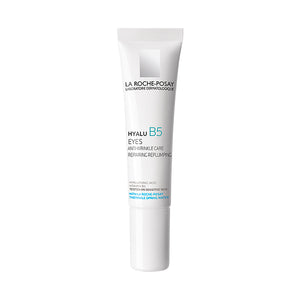 The Hyalu B5 Eyes ensures wrinkles and fine lines look reduced. For dehydrated skin, showing signs of aging.

La Roche-Posays first dermatological anti-wrinkle solution that restores and replumps sensitive eyes.
A formula developed with a high concentration of vitamin B5, to boost the skins natural renewal and repairing process around the eye contour. Along with a duo of hyaluronic acids that provide both surface hydration and deep hydration. Wrinkles and fine lines look reduced. The eye contour looks fresher for a more awakened look.
Test Results
At the end of the day*:
78% skin appears more uniform
80% skin feels hydrated 
75% fine lines look reduced
After 4 weeks**:
*Based on a self-assessment study of 60 women from 46 to 65 years old
**based on a clinical study with 52 females, from ages 45- 60, application twice a day